No Reserve !!
$1.00 Starting Bid
(And our guarantee that we will not cancel this auction early for a cash offer outside of eBay, as this truck is not listed for sale anywhere else - you have my personal word on that!)
Authentic Military Surplus
Bobbed 1968/1988/2011* Kaiser Jeep M35A2 Military 2-1/2 ton 6X6 Cargo Truck
Super Clean, Super-Straight Deuce
WITH
-46" Goodyear 395/85R20 MV/T Super Singles,
-Custom Bob and Restoration, PLUS
-ONLY 5,807 Miles since Full Military Overhaul
COMPLETE BODY OFF CUSTOM RESTORATION!!
*This truck was an amazing find. It came out of El Toro MCAS (Marine Corps Air Station), so it was always a West Coast truck. And being a Marine Corps truck used at an Air Station means that it was always well maintained.
We purchased it in a lot of trucks from one of the largest and most reputable suppliers of military equipment to Hollywood and the Movie Industry in general.
In June of 1988 it received a complete military overhaul by the Tooele Army Depot (new engine, transmission, transfer case, axles, etc.) as you can see from the below pictures.
It was then sold by the military in April of 1999 when the El Toro base was decommissioned.
Between April of 1999 and today, it has only been driven a total of NINETY (90) miles - about 35 of them by us.
We then tore it completely down and overhauled it over the last several months to bring it up to our standards. Total document miles on this truck since the day it was overhauled by the military is 5,807!
Note that it is titled as an M109A3 - the service body version of the M35A2, so it either had the '109 service box on and it was removed, or that was a typo. But it will not have any impact on registering it.
We have almost 1,000 man hours painstakingly restoring this truck to make it run/look as good (or better) than it did when it first rolled off the assembly line!
NOTE: (to comply with eBay, DoD and International Traffic in Arms Regulations (ITAR) Part 121): No weapons, ammunition or un-demilitarized hardware in this No Reserve Auction.
Complete body off the frame restoration done on this truck - months of work to make it perfect!
Almost every major and minor mechanical part is new or rebuilt - from all the wheel bearings (inner and outer), axle seals and brakes to the Fuel Gauge and Fuel Sending Unit, Voltage Gauge, Tachometer, Injection/Lift Pump, Injectors, Air Lines, most of the Wiring, Gaskets, Hoses, Fluids, Alternator and Batteries!
PLUS; Completely Stripped/Blasted and Painted from top to bottom -AND Bed Lined THIS MONTH!
Over 250 High Resolution Photo's below...
We started with a stock 6X6 M35A2 from the military that was already in excellent shape (I personally cherry-pick from only the best trucks to start with), pulled the bed and the cab off the frame, shortened the frame and the cargo bed and removed the rear axle to make this truck a custom street legal 4x4.
We then went completely through the motor, blasted the frame and the body, sent the rear driveshaft out and had it lengthened by 3 inches and balanced, and put reworked and beefed up 2-1/2 ton military leaf-springs from a donor M35A2 along with brand new shocks to keep the original payload capacity (and then some).
We used the original M35A2 Cargo Bed after cutting 4 feet out of the middle and putting it back together, as we don't like the smaller frame structure of the M105A2 trailers that a lot of people use to save time and money. Then the bed gets a double coat of primer and two thick coats of a premium bed liner for durability and looks.
We replace most of the wiring, brake lines and air lines and then service the cooling system (radiator, hoses, thermostat, etc.) and all the wheel hubs (new inner and outer wheel bearings, axle seals, brakes, etc.).

Then a set of monster 99% Goodyear 46 inch Tubeless 395/85R20 MV/T's with bead locks goes on underneath it all.
While the frame work is being done, the body gets stripped while it is off the truck and the engine gets a thorough going through. Anything that needs work is replaced with new OEM parts - not repaired.
Once the frame is done, it is blasted and painted and the truck is reassembled. Finally, the body gets 2 coats of Primer and 3 coats of Desert Tan flat paint before the stenciling goes back on.
The interior, engine compartment and undercarriage receive as much prep and attention prior to painting as the body did (makes no sense in my opinion to have the best truck on the block and then leave the interior or under the hood looking like it just came out of Iraq;-).
Back together, this truck is HUGE and very capable - it would be almost impossible to get this truck stuck, and the 46 inch tires gives you a top speed increase to 60 miles an hour at 2,400 rpm's. Even with the size of this truck though, it is surprising easy to drive. The steering is easier than a stock deuce once we are done with it and you can literally turn the wheel with one finger at any speed.
There's way too much work to break down and list here, but see the more than 250 high resolution pictures for more details.
Clear Title on hand! You can register this truck immediately for on-street use!!
Meticulously maintained and in PRISTINE original condition.
New/Fresh Paint, Bed Liner & Upholstery!
Great Workhorse or Recreation Vehicle!
Runs Great, Extremely Reliable, Has all the Extras, No Problem being an Everyday Driver;
-Complete Military Overhaul Completed in June of 1988 by the Tooele Army Depot in Tooele Utah
-Legendary Hercules LDT-465-1D Multi Fuel 6 Cylinder Turbo Diesel Motor; Inline 478 Cubic Inch (7.8 L) turbocharged engine developing 134 bhp (100 kW) and 330 foot-pounds force (447 N-m) of torque
-5 Speed Synchronized Overdrive Manual Transmission
-Rockwell 136-27 air-operated selectable 2-speed Transfer Case with Cab-Operated Front Axle Disengage
-Rockwell 2-1/2 Ton Top Loader Axles with 6-72 Gear Ratio
-Air Assisted Hydraulic Six Wheel Drum Brake System with a Driveline Parking Brake; Each drum designed for maximum efficiency - individual drums can dissipate up to 12 kilowatts (16 hp) or braking heat
-BRAND NEW Insulated Soft Top (Removable) on Cab
-Manifold Heater
-24-Volt Electrical System Utilizing Dual 12 Volt Batteries Run in Series (Both New in 11/2011)
-Gladhand Air Couplers on the Rear of the Truck for Connection to Trailers with Full Air Service and Emergency Brakes (GREAT for running air tools or for airing up your tires with any commercial truck/gladhand air hose and tire chuck)
-All New Interior Upholstery and Seat Cushions
-Rear Pintle Hitch
-Original Equipment Bumperettes, Gladhands, Front and Rear Tow Hooks, & Full Military Lighting.
-Professionally Serviced Regularly (just replaced primary and both secondary fuel filters as well as both oil filters and hydraulic filters. Flushed radiator, drained and purged air lines and replaced all fluids; oil, transmission, transfer case, hydraulic/brake and all three axles)!
We can ship this truck to you anywhere in the lower 48 States for an average of $1.15 to $1.65 per mile (our City, State and Zip is; San Clemente, CA 92673). Cost largely depends on what part of the Country you are in.
The trucking company will charge a $600 minimum on average, and distances over 500 miles will cost you less per mile. If you need ramps, it can add $100.
Shipping paid for by buyer.
DETAILS, SPECS and DOZENS OF PHOTOS BELOW
ONLY 5,807 Miles!!
*Note that the 5,807 Miles is from after the Military Overhaul with new motor in 1988, and the Hours are unkown - the gauge was not working when we received it, so we put a new one on it. It was showing 268 hours when we received it.
FREE SOFT COPY OF THE OFFICIAL MILITARY MANUAL (OPERATORS, REPAIR, PARTS ETC.) INCLUDED!!
Looks good from any angle!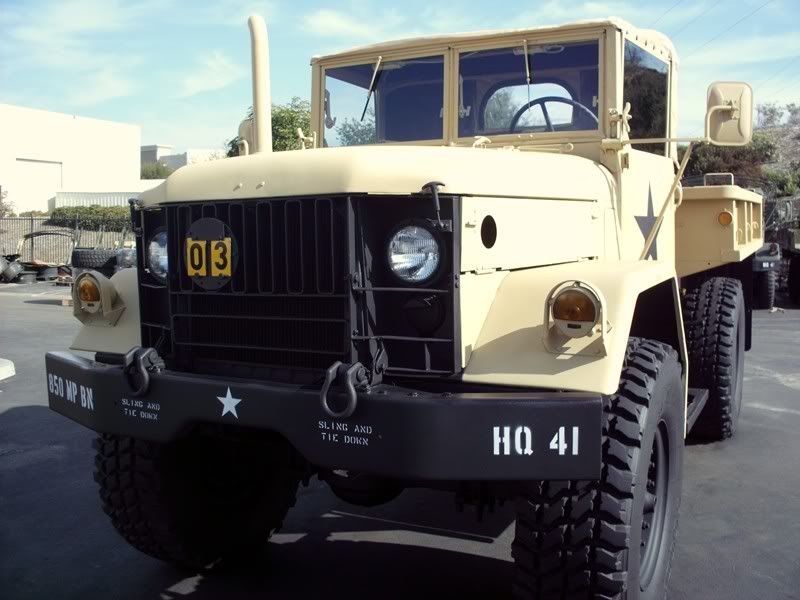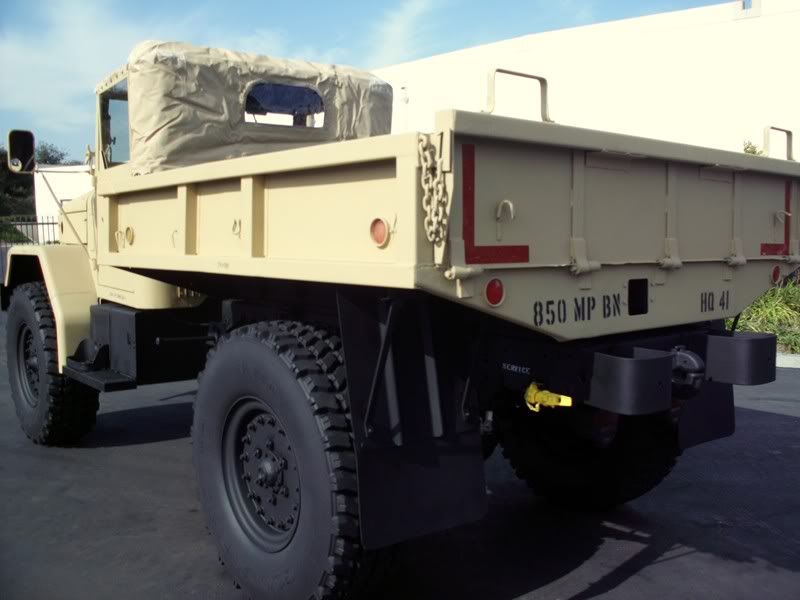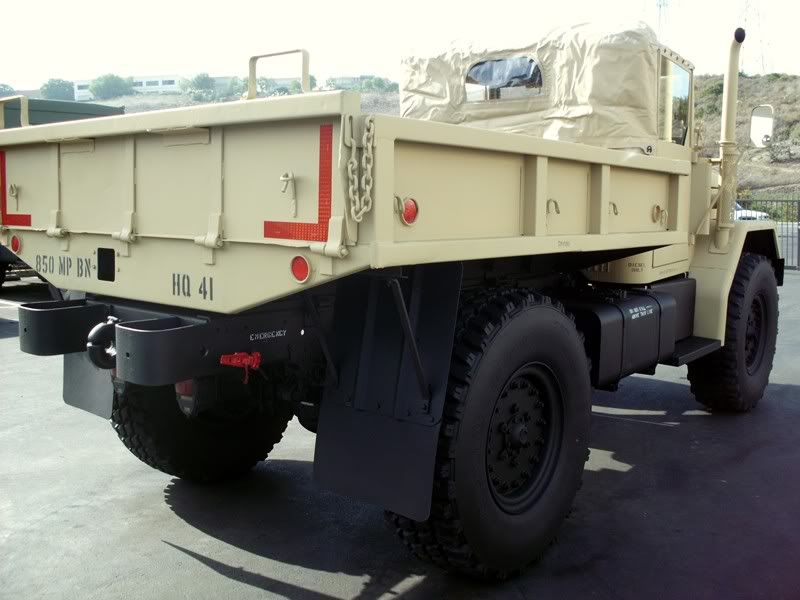 To Help Put The Enormous Size of this Truck Into Perspective;
(Porsche Not Included;-)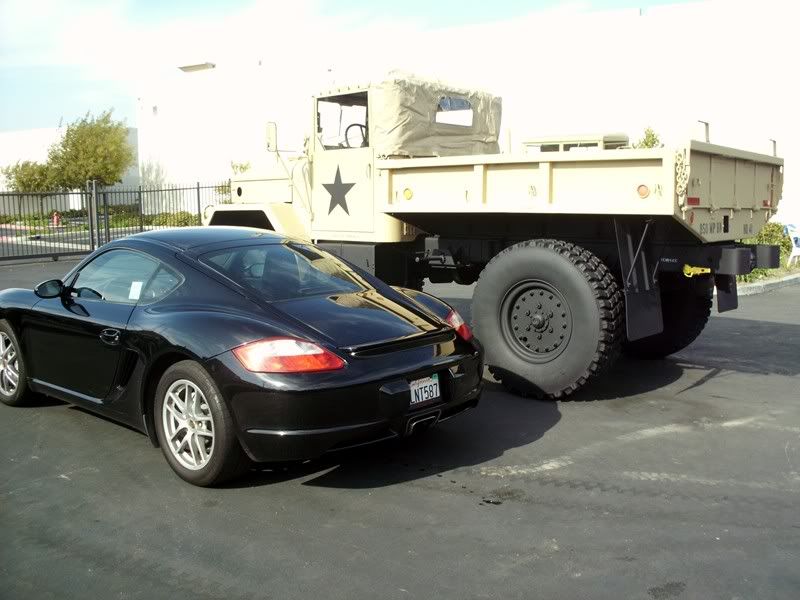 -A Super Clean, Rust-Free West Coast Deuce!
One of the most rugged, go-anywhere work or play trucks that you will find on 4 wheels!!
And, it is ready for the show in almost BRAND NEW CONDITION!!
Will stand out at any military reunion, fair, parade, truck show, wedding, off road rally, etc. - but ready to go to work for you or drive across the Country right now!
Details, Specs & Restrictions Below
Please read entire description before you bid!
Hard to find like-new Bobbed M35A2 military 4X4 2 1/2 ton cargo truck with Multi-Fuel Motor and Goodyear 46" Super Singles. The exterior is extremely nice, recently blasted and professionally painted with Military Desert Tan Paint.
EXCELLENT tires - they are all 99%!
Starts well (always fires right up on the first crank) and runs great! No leaks that we can detect and everything works like it should.
Cargo box is in excellent condition with a new spray on bed-liner and absolutely NO major OR minor problems that we are aware of.
New Spray On Bed Liner
And just to show how proud of my guys work that I am, I challenge anyone to see if you can spot the point on the bed or sides where we cut it in half and welded it back together...
You can see the factory weld running the length of the bed in the center (from front to rear) - that is on all M35 beds. But we cut 4 feet out of the middle of this bed and put it back together - and even if you are standing next to this truck, you will not see the weld running from left to right right in the middle of the bed!
I know that I say that all the time (or at least whenever we sell a bobbed deuce, which is 65 to 70 times a year;-), but there is no substitute for experience. We've done so many bob's over the years that even I have lost count.
Welding of this quality and at this skill level is an art form that only the best master after decades of experience and hundreds of similar jobs on the same cargo beds - and Saul and Javier are two of the best for sure with 45 years of combined experience between them alone!!
THE BOTTOM OF THE CARGO BED IS A WHOPPING/SHOULDER-STRAINING 55" OFF THE GROUND!! PERFECT FOR GROCERIES;-)
PLUS;
All High-Use/High Traffic Areas (Tool Box, Interior Floorboards, Exterior Steps, Front Bumper Top, etc.) are Bed Lined for Durability and Ease of Keeping them Clean;
After a day in the mud with this truck, get your hose out, spray it down and as soon as it dries, valet park it at the nicest restaurant in town and have a nice dinner. I guarantee that it will be left out front waiting for you after dinner - both for the attention it will draw AND for the fear you'll see in the valet's eyes at the thought of trying to park it!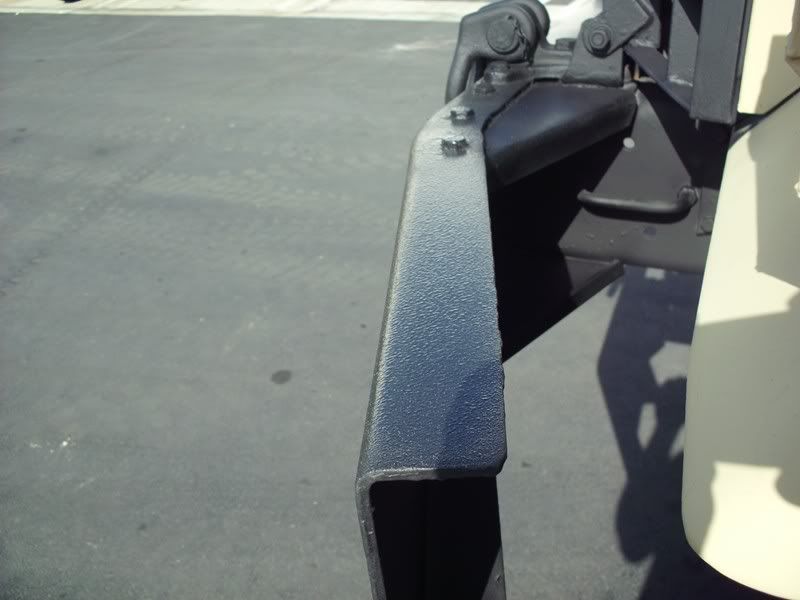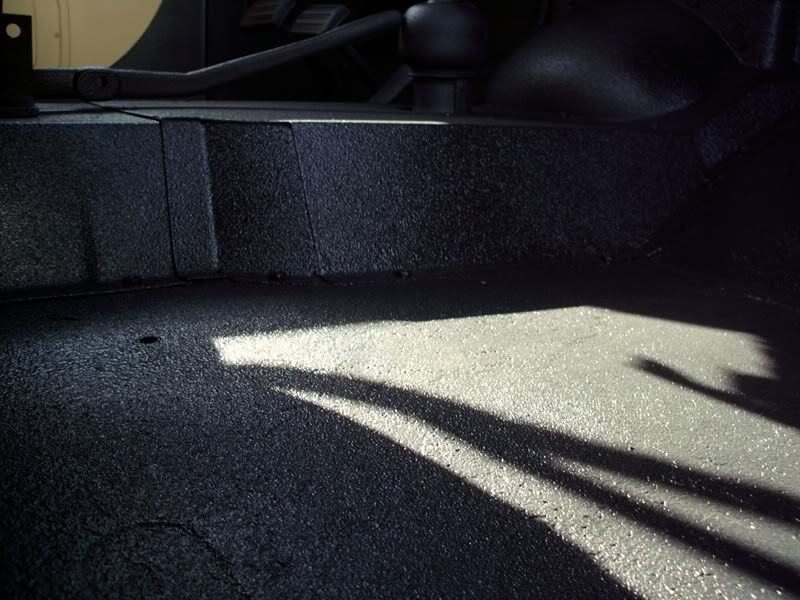 SUPER SINGLE TIRES
Goodyear 46" 395/85R20 MV/T's
You'll notice that we turned the rear hubs so the front and rear tires track correctly (we don't cut corners and use offset wheels - this way you can rotate your tires any time you want). With the beadlocks and the custom military 2-piece wheels under this behemoth you will have a very unique and capable truck for sure!!
All Four (4) tires are in great shape, hold air and have 99% tread.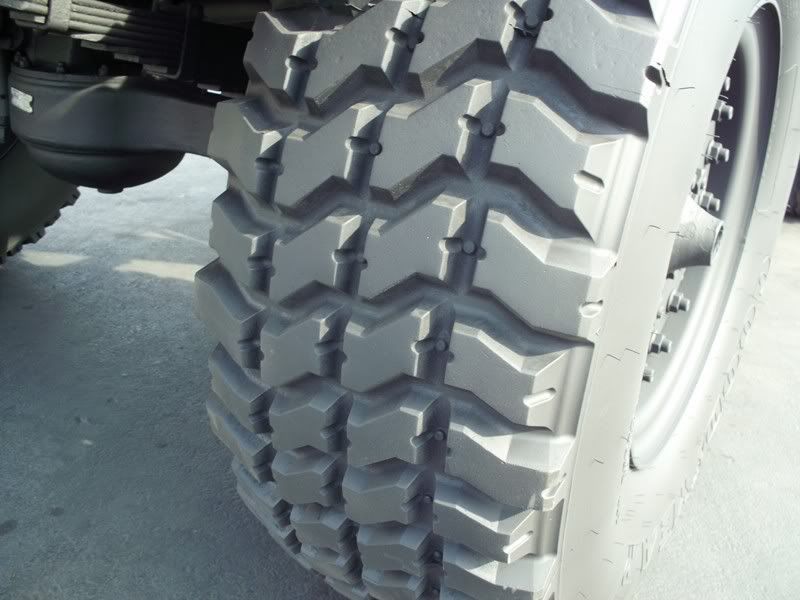 With the 46 inch tires and custom 2-piece wheels, you can actually break down a tire and wheel in the field without any special tools and patch a leak with a commercial patch kit!!
But if you want us to put a stock 9.00-20 tire/wheel in the spare tire holder, just let me know and we will do it for no charge. In fact, if you want a full set of the stock tires, you are welcome to them at no cost.
INTERIOR AND ENGINE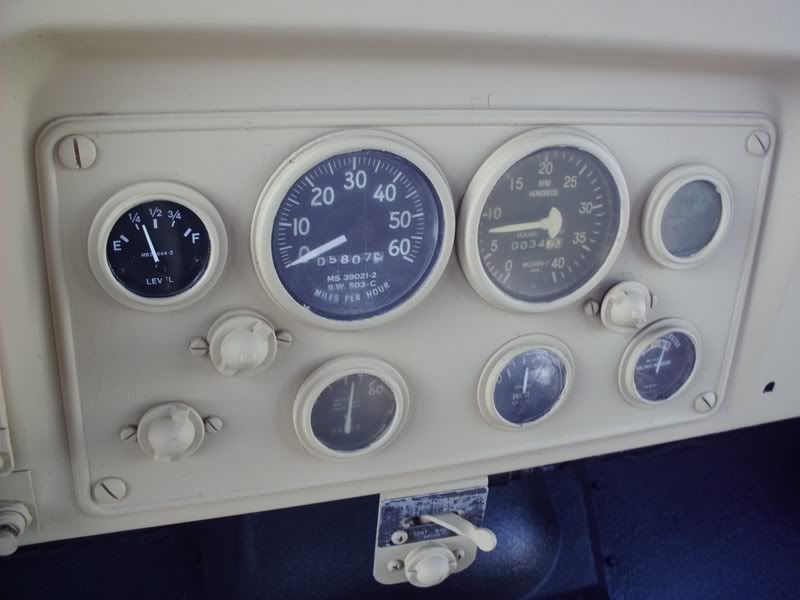 Engine Compartment
SOME MORE PICTURES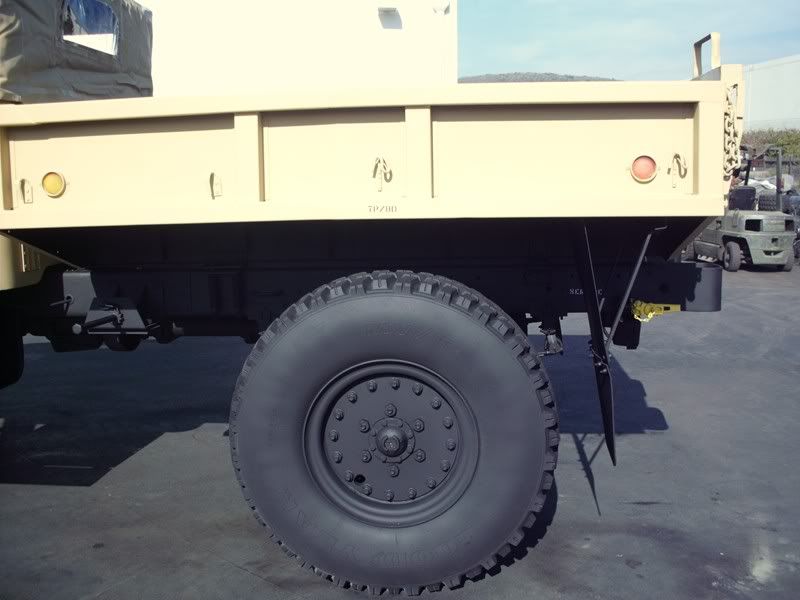 Fully Rustproofed and Undercoated!!
And Last but Not Least (since we spent as much time under this truck as we did on it or in the engine compartment;-)... The undercarriage has also be stripped, sand blasted, prepped, primed and painted to look as new as it was when it rolled off the assembly line...
Undercarriage
ABSOLUTELY NO PROBLEM AREAS THAT WE ARE AWARE OF - AND WE HAVE BEEN COMPLETELY THROUGH THIS TRUCK INSIDE AND OUT!
Ready to go to work (or PLAY;-) for you immediately!
NOT A COUPLE OF GUYS MESSING AROUND PART TIME...
We're a professional full time shop and an approved Defense Contractor for DoD that ONLY works on Military trucks. We're also a Level III Staging Area for FEMA with a BOA on file for more than 8 years.
With 13 full time employee's, an annual operating budget in excess of $8 Million (Gross Sales of more than $41 Million in 2010 and a run rate of $54M in 2011), more than 45,000 square feet of shop space at 3 different locations, two (2) acres of secure yards at 2 separate locations and a track record of excellence since 2003 with an annual volume of more than 400 vehicles, you will not find a more capable company or a group with more specialized knowledge of these vehicles than us.
We do all work in house - with the exception of driveshafts and springs, nothing is sent out and no corners are ever cut. I drive every single truck we manufacturer after my mechanical and paint teams each sign off on it to ensure that it is perfect for you.
Here are a few pictures of our team in action on several different trucks for a glimpse into our main shop where most of the engineering and mechanical work and all of the paint is done;
~~~~~~~~~~~~~~~~~~~~~~~~~~~
AND IF YOU NEED SHIPPING SERVICES - NO ONE HAS MORE EXPERIENCE SENDING THESE TRUCKS ALL OVER THE COUNTRY THAN WE DO!!
If we can't deliver it on our truck, we will find a trucker for you with the right equipment. We can take care of all the details and arrangements for you, and we don't charge a handling fee or mark the shipping up;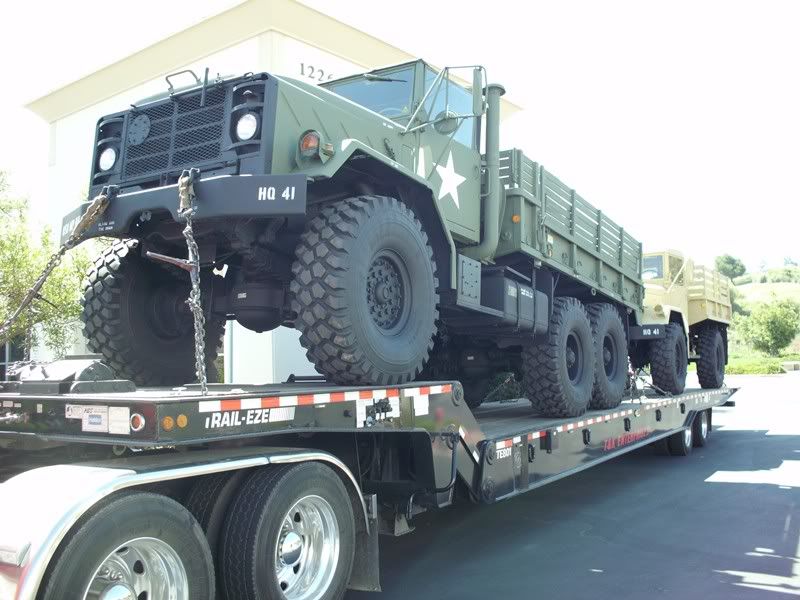 ~~~~~~~~~~~~~~~~~~~~~~~~~~~
With the exception of the Bob and the Super Singles/Turned Hubs, this truck is all original with no other modifications. Brakes work great and all lights work.
Characteristics and Specs for the M35A2

The M35 family of trucks is a long-lived vehicle initially deployed by the United States Army, and subsequently utilized by many nations around the world. A truck in the 2 1/2 ton weight class, it was one of many vehicles in US military service to have been referred to as the "deuce and a half." The basic M35 cargo truck can carry 5000 pounds across country or 10,000 pounds over roads. Trucks in this weight class are considered medium duty by the military and Department of Transportation. The M35 series formed the basis for a wide range of specialized vehicles.

The M35 started out in 1949 as a design by the REO Motor Car Company. The first vehicle in the family, the M34, was quickly superseded in military usage by the M35, the major difference being the M35's 10-tire configuration versus the M34's 6-tire "super-singles" configuration.

An M35A2 cargo truck with winch is 112" tall, 96" wide and 277" long, 13,530 pounds empty, 13,050 pounds empty without winch. The standard wheelbase cargo bed is 8'x12'. The M35A2 was available with an optional canvas soft top or a metal hard top. Metal hard-top configurations are most often found on vehicles that have been equipped with cold-weather gear, including additional insulation in the cab, as well as engine coolant or multifuel-fired cab personnel heaters.

The M35A2 is powered by a Hercules, Continental or White LDT-465, in-line 6 cylinder, turbocharged multifuel engines with 134 bhp (100 kW) and 330 lb·ft (447 N·m) of torque. This is coupled with a 5-speed manual transmission and divorced 2-speed transfer case (Either a sprague-operated transfer case (Rockwell 136-21) or air-operated selectable transfer case - Rockwell 136-27). Multifuel engines are designed to reliably operate on a wide variety of fuels, to include diesel fuel, jet fuel, kerosene, heating oil or gasoline. Gasoline should only be used in an emergency because it does not properly lubricate the injector pump. While using gasoline, common practice calls for the addition of at least 1 quart of clean motor oil per 15 gallons of gasoline for proper pump lubrication where available.

The curb weight of an M35 is between 13,000 and 13,700 pounds empty, depending on configuration. Its top speed is 56 mph (90 km/h), though maximum cruising speed is approximately 48 mph (77 km/h). Fuel economy is 11 MPG highway and 8 MPG city, giving the deuce a 400-500 mile range on its 50 US gallon single fuel tank. On average, most operators experience tank averages of 8-10 mpg for an unladen vehicle.

Brake system is air-over-hydraulic six wheel drum with a driveline parking brake, although gladhands exist on the rear of the vehicle for connection to trailers with full air service and emergency brakes. Braking performance of the truck is similar to other power drum brake vehicles of this size. Each drum was designed with maximum efficiency in mind, and individual drums can dissipate up to 12 kW of braking heat. Due to this brake system and GVWR under 26,001 pounds, the big deuce can be driven without a commercial driver's license in most states.

The electrical system is 24 volt, using two 12 volt batteries run in series.
General Specifications

Name

M35A2 2.5-Ton 4x4 Cargo Truck With Winch

Pintle height

36 1/8 in

Manufacturer

Am General

Ground clearance

Under axle: 12 1/2 in
Under chassis: 10 15/16 in

Year

19??

Vehicle/bridge classification

Empty: 6
Cross-country: 8

Cargo capacity

Cross-country: 5,000 lbs
Highway: 10,000 lbs

Wheel base

142 in

Towed load

Cross-country: 6,000 lbs
Highway: 10,000 lbs

Approach angle

38 deg

Winch max load

N/A

Departure angle

38 deg

Winch cable length

N/A

Turning radius

37.5 ft

Height

112 in

Cruising range

309 mi (max payload, @ 1500 RPM)
283 mi (max payload + max towed load, @ 1500 RPM)

Length

278 in

Fording depth

30 in

Width

98 in

Tires

9.00 x 20, 8 ply.

Weight

Empty: 13,030 lbs
Gross (cross-country): 18,720 lbs
Gross (highway): 23,030 lbs

Brakes

Hydraulic, with air boost and glad hands for towing trailers with air brakes
IMPORTANT NOTES, CONDITIONS & TERMS OF THIS AUCTION
1) We do not have this truck advertised anywhere else, so you have our word that we will not cancel this auction early to sell it for a cash offer. With no reserve, the highest bidder will win this truck, no exceptions.
2) Truck is Considered Demilitarized Surplus (Class Q). Cannot be shipped outside of the USA. Not for sale to non-US Citizens, no exceptions (U.S. Military/Federal Government Rules, not ours - sorry;-). You must be a U.S. citizen or permanent resident of the U.S. to bid on this truck. This truck can only be bid on if the buyer intends to use this truck for personal use only and has no intention of exporting the item outside of the U.S. This is non-negotiable.
3) Truck is sold as is. Everything is in working order as described above.
4) Truck comes with a clear Federal title. We will provide a Notarized Bill of Sale and a Notarized Title Transfer Document along with the title upon receipt of payment. With the Bill of Sale and the Government Title (SF-97), you will be able to title this Truck in any State at your local DMV - we guarantee it.
Bid with CONFIDENCE - we are a very reputable eBay seller, with a 100% POSITIVE feedback rating, eBay I.D. Verified AND PayPal Verified with over 15,000 payments received, and not a single PayPal complaint or dispute
-PLUS-
We'll help in any way possible with the shipping if you need us to, and can even make the arrangements for you if you want AND we keep you informed through the entire process with confirmations when payment is received, when your order is shipped and tracking numbers if applicable.
See our eBay Store, MREdepot

, for hundred's of disaster and emergency preparedness items and shelf stable foods.
PAYMENT: Payment by PayPal (preferred and PayPal eChecks just as welcome!), Money Order, Cashier's Check, Personal Check (allow 5 to 7+ business days to clear), American Express, Visa, Master Card & Discover Card (credit cards through PayPal even if you don't have an account with them - it is easy and safe.
Please see our
other items
as we have HUNDREDs of "Auction" "Buy It Now" style listings on other Military Surplus, Emergency and Disaster Preparedness and Bulk Food Storage items.

And please be sure to add us to your favorites list, as we add new items DAILY!!
Copyright 2012 MREdepot.com
Garrett Miles
T 949.212.5778
1226 Puerta Del Sol
San Clemente, CA 92673